Our Local Printing Services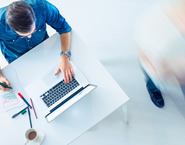 Our Los Angeles Print Company
Striving to meet the every day printing demand of companies on tight deadlines. We take pride on getting the job done.
We utilize digital presses, large format printer and commercial offset printing press for all of our work. View More
Our LA Print Team and Print Equipment
I am so glad I found these guys! We just had our first print with them, and we had a tight deadline! They were flexible with us, and even though there was a slight setback, they still met our deadline!! Our catalogs came out beautiful and my supervisor cannot be happier.
I've been looking for a great print shop for a small business with fair prices and great service, and I think this is the one. Everything I've received from here, whether it be my DIE-CUT BUSINESS CARDS, POSTERS, CALENDARS, SIGNS, PRODUCT SIGNS, MENU BOARDS… you name it!

Awesome service, on-point quality, and very very professional.

Give them a try and you'll see what I'm talking about.
Our Blog
Quisque elementum nibh at dolor pellentesque, a eleifend libero pharetra. Mauris neque felis, volutpat nec ullamcorper eget, sagittis vel [...]